Characteristics of Translation/Localization in the Information and Telecommunications Technology Industry
Under the slogan "Quality Serves as a Second Sales Rep," we have established an in-house quality assurance system under which more than 100 staff members including in-house translators, editors, and proofreaders collaborate with each other. In-house translators share customer information and exchange their translation knowhow with each other to help improve translators' skills. Past information assets are accumulated through knowledge management so that customers' needs can be fully satisfied.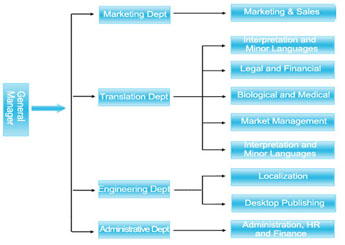 Technical translation services are a highly specialized discipline and should only be carried out by suitably qualified translators. When you are having manuals, user guides or any other technical documents translated, it is absolutely essential to trust your documents to professionals in international technical translation services. Whether it be engineering, medical or any other specialized subject the technical translation must be perfect. Only Chris Translation y with a proven track record and solid technical knowledge can achieve this and offer you accurate technical translation services.
| | |
| --- | --- |
| • | Chris Translation understands the importance of making sure technology caters to different cultures in a rapidly changing world. Globalization means that businesses can no longer afford to focus exclusively on local customers. Products and services cross physical borders as the translated word crosses language barriers. Consider a large engineering contractor in England, who might need to bid and build a billion dollar project for a client in Portugal. Manuals, drawings, bid documents and any other element involved in this process need accurate technical translation. Today's clients, investors, and employees speak many languages that only increases the translator's relevance. Offering international technical translation services is just one way we can help companies keep up with the ever-changing needs of the business world. |
| • | Chris Translation provides high-quality technical translation services including translation of engineering and technical documentation. |
| • | Look no further for careful technical translation services and accurate translations of manuals, feasibility studies, government standards and regulations, product brochures, marketing and training materials, proposals, bids, and technical documents. Chris Translation helps to overcome the multilingual communication gap by providing confidential, detailed international technical translation services. |