System Development/Research & Development of Chris Translation Company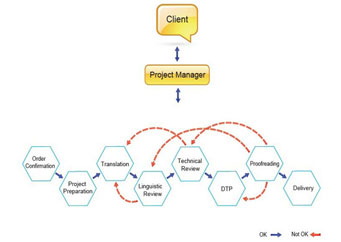 Chris Translation is working to computerize certain translation processes and pursuing further possible innovations.
While computers are now used in any and all areas, high quality translations cannot be obtained without involving humans with appropriate knowledge and skills. However, mistakes cannot be completely avoided in manual work. To minimize unnecessary mistakes and provide correct translations speedily, translation processes should be automated and systematized as much as possible.
To seek for possible innovations in translation, Chris Translation established an R&D center in the office. The R&D center not only analyzes the current in-house translation processes from different angles, but also makes efforts to develop the company's own technologies and to build alliance systems with external technologies.
Azalea, a program used as a training aid for translators, is a product produced in the course of these efforts. This program is the first big result of our R&D center.
Incorrect translations commonly found in translations by Japanese were collected into a database, against which users' English sentences are checked for evaluation and correction. We obtained patents for this program.
We are also engaged in the development of programs that automatically extract technical terms from documents to translate and compile them into a database. In the near future, we will be able to automatically translate terms that should be translated consistently, according to a specified dictionary, which must be prepared in advance, before sending the original text to translators. This will contribute to the further improvement of translation quality.
Apart from the R&D center, engineers in the localization division also develop and use their own search tools or check tools in response to needs on site. We are making efforts to improve translation technology to satisfy customers in terms of correctness, speed, and cost.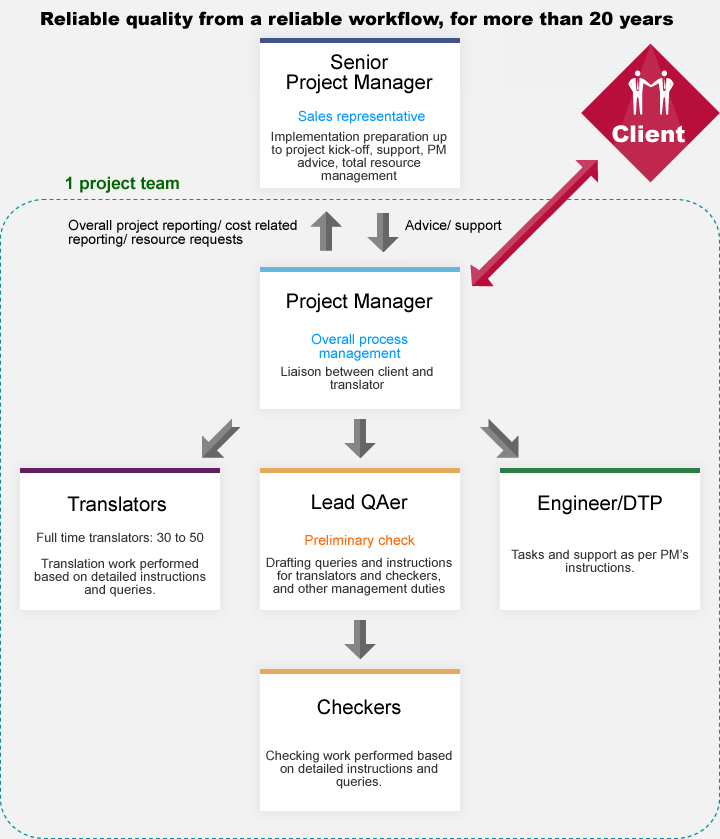 CHRIS TRANSLATION Guarantee
We believe in our customers and the work that you do. We know how demanding it can be, and we are resolved to help by providing quality and dependable author services that you can trust. That is why we offer you the following commitments.

EDITING: The completed manuscript you receive from CHRIS TRANSLATION's editing services is covered by our editing guarantee. If your edited paper is rejected by your journal for English language errors, we promise to re-edit your document for free. It should be noted that material added to your paper after our editors work on your manuscript is not included in this guarantee. For this reason, we recommend that you send us your final draft when you make a new submission.

TRANSLATION: Every paper submitted for our Translation service is eligible to receive an CHRIS TRANSLATION Editing Certificate, and we guarantee that if you are not satisfied with your manuscript, or if the journal says that the English needs improvement, we will re-edit it for free, no questions asked, until your manuscript is published.
FORMATTING: We guarantee that your paper will be formatted according to your target journal's guidelines, and we will provide comments describing any missing elements that are required for submission. If the editor of your target journal mentions any problems with the formatting of your paper, we will reformat your paper for free.

FIGURE PREPARATION: We guarantee that the formatted figures and tables that you receive will meet the stated specifications of the journal that you selected. If the journal does have any issues with the preparation of your figures or tables, we will resolve those issues for free.